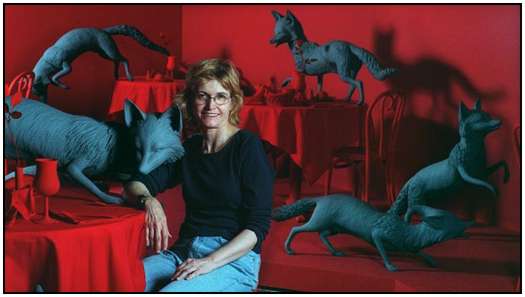 Sandy Skoglund
Sandy Skoglund è nata nel 1946 nel Massachusetts. Ha studiato allo Smith College, all'Università di Parigi e all'Università dello Iowa.crea immagini di fantasia dai colori vivaci.
Lei costruisce i set elaborati, pieni di oggetti di scena, figurine e modelli umani, che poi fotografa. Nel suo lavoro, la Skoglund esplora l'estetica della artificialità e gli effetti per interrompere la realtà comune.
Ogni elemento delle sue scene costruite, preso singolarmente, è familiare e insignificante. Le giustapposizioni che crea tra le parti, però, sono sorprendenti, strani e nuovi.
La sua opera comprende fotografie di una stanza piena di gatti "radioattivi" verdi, foreste di alberi umanoidi visitate da persone reali e sculture umane, una collina popolata da bambini adulti per dimensioni. Le immagini sono inquietanti ma spesso molto divertenti.
Mentre molte delle immagini di Skoglund hanno una qualità onirica, Revenge of the Goldfish , in particolare, sottolinea questo aspetto del suo lavoro. La composizione è incentrata su una camera da letto.